Guardia di Finanza, Plone for "Tenders and Contracts"
Oct 16, 2014
The adoption of Plone by the Guardia di Finanza continues to grow: this time, with the new "Tenders and Contracts" website
Guardia di Finanza Logo
The collaboration between RedTurtle and the Guardia di Finanza is continuing and, as reported by the PloneGov Italia website,  just resulted in the launch of the  new "Tenders and Contract" portal, available at the URL http://newgdf.gdf.gov.it/bandi-di-gara.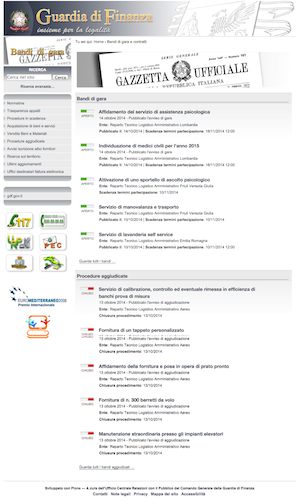 Starting, in the spiit of 
PloneGov
, from the components developed by RedTurtle for the management of SMB financing initiatives by the
Regione Emilia Romagna
, the staff by the Guardia di Finanza, leveraging its 
experience in Plone
, has 
adapted
that solution to its needs, proving itself as  
one of the organizations most capable to grasp the opportunities
provided by PloneGov Italia.
The announced initiative of a further extension of its Plone competences, involving in the process an higher number of personnel, confirms the commitment in proceeding along a road capable to minimize expenditure and commending internal skills, while granting at the same time an excellent quality of the product.